Stained Glass by Jay Grooters

| Animals | Birds | Caricatures, Geometric | Flowers | Landscapes |
New Designs at Our Lady of the Mountains Catholic Church
Allenspark Community Church | Mount Calvary Lutheran Church
Longmont United Methodist Church | Good Shepherd of the Mountains Lutheran Church
Estes Park Trail-Gazette Article | Longmont Times-Call Article
Grand Canyon, AZ designs


Article about the Urban Rancher and his
Liturgical Stained Glass, published in the
Longmont Times-Call on November 17, 2006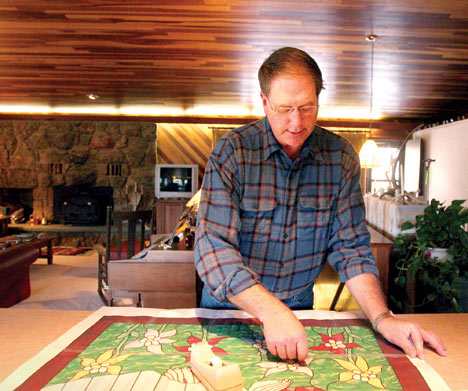 Jay Grooters works on a pattern for a commissioned piece called "Divine Mercy" at his studio in Estes Park. Times-Call/Jamie Haverkamp
The Joy of PANES

Stained-glass artist creates local liturgical works

By Melanie M. Sidwell
The Daily Times-Call
Longmont native Jay Grooters was a member of the Colorado Speakers Association and the National Speakers Association for about nine years.

The son of a Methodist minister, Grooters grew up watching his father inspire those in the pews with his sermons.

Despite this, Grooters - who, with his wife, Fran, manages Alpine Trail Ridge Inn in Estes Park - didn't become a professional speaker because "I felt I didn't have a strong message to share with people."

But the 61-year-old learned he does have a message, which he delivers not with words from the pulpit but with his stained-glass windows, some of which are installed in churches in Colorado towns, including Longmont, Estes Park, Allenspark and Denver.
Just like his father, Grooters is inspiring people in the pews.
"I realized ... that I do have a message now, and that is I speak with my hands instead of my voice," he said of his most recent public work, the first stained-glass window in Our Lady of the Mountains Catholic Church in Estes Park, which depicts the Virgin Mary.
"Literally thousands of people will see this window each year, and some will be strongly impacted by it, so that I will have a legacy of positive effect in many lives over the coming years."
Grooters began to study stained glass in 1971 because "I wanted a stained-glass lamp and couldn't afford to buy one. So I thought I would make one."
He learned his techniques from "a hobbyist who did a lot of things wrong" and a book titled "How to Work With Stained Glass."
The self-taught artist opened a studio two years later to create custom pieces such as lamps and picture windows. He also renovated existing stained-glass windows in Colorado and Wyoming churches.


A window depicting the Virgin Mary is installed at Our Lady of the Mountains Catholic church in Estes Park. Created by Stained glass artist Jay Grooters, It is the first stained glass window in the church and has more than 1,100 pieces.
To date, his liturgical artwork and renovation projects include more than 20 windows for Allenspark Community Church and United Methodist Church in Longmont and, in Estes Park, four windows of Mount Calvary Lutheran Church, Community Church of the Rockies and Our Lady of the Mountains Catholic Church.

The window in the Estes Park Catholic Church measures 4 feet by 11 feet and is called "Mary, Our Lady of the Mountains." It was installed last April and dedicated in August.
"Making a window is simple," Grooters said, though he conceded that in the early years, "I used a ton of Band-Aids."

It's the decisions for the window's design that can get complicated. Grooters said the basic process goes as follows:

Church officials decide on the need for stained glass to be created and installed in their church. Then they determine the need for funding, usually in the form of donations from members in memory of loved ones.

"For church jobs, a rough estimate based on the recent bids on a big church job in Denver seems to be about $200 a square foot," Grooters said, adding that the final cost is determined by many factors.

The church then selects a stained-glass studio or artist, usually by sending out a detailed bid request with design ideas, the proposed budget and a time frame for completion. Interested studios submit proposals, and church leaders choose a studio or artist.

"Working with churches is quite an interesting proposition," he said. "Most churches have committees, and, depending on the number of people on the committee, agreeing on a design can be difficult, because everyone has an opinion. The more people, the more opinions there are."

With the Mary window, the decision makers were the donor and the priest. Grooters worked in his home studio for about four months earlier this year on the large window, which was then gingerly transported 11/2 miles down a dirt road and into town.


Photo courtesy of James Frank Photography
970-586-3418
Depending on size, a stained- glass window can consist of hundreds, even thousands of pieces - some as small as a pinkie fingernail. I can get pretty detailed," Grooters said.

"It's like making a jigsaw puzzle, a glass jigsaw puzzle," he added.

These images can have a lasting influence, which Grooters realized when he saw the Mary window installed early this year.

"I enjoy the effects of the light coming through the glass, and the feeling of knowing that I'm now working in the league of creating liturgical art that will last for years and hopefully impact many lives," he said. "My father was an exceptional minister who influenced the lives of many people in a positive way, so it is nice to be following in his footsteps in a different fashion."

Melanie M. Sidwell can be reached at 303-684-5274, or by e-mail at msidwell@times-call.com.

Home] [Order Form]
---
Mountain Home Stained Glass
1901 Ptarmigan Place, Unit 202

Mobile phone: 970-443-4536
E-mail:jaygrooters@frii.com

---

Copyright © 2009 Urban Rancher Publishing Revised - 17 September 2022